ABOUT NEXUS CINEMA
Nexus is a medium-sized production company, with the possibility of raising 24 million by Incentive Law. It is a production company that focuses on producing distinguished projects, where production values ​​are evident. The quantity is not intended here, but artisanal care with each project.
NEXUS ALSO PROVIDES PRODUCTION SERVICES FOR FOREIGN PICTURES IN BRAZIL.
Nexus produced the picture "Vera" by Sérgio Toledo (Silver Bear in Berlin, Best Actress in 1987); the documentary "Carandiru.doc", directed by Rita Buzzar, and broadcasted by GNT (Pay TV Channel in Brazil) during the Prime Time; "Olga", directed by Jayme Monjardim and based on the book written by Fernando Morais, Brazilian Oscar candidate in 2004, and a blockbuster, with over three million viewers in theaters and over 100,000 DVDs sold. Nexus produced also the successful international coproduction "Budapest", based on the homonymous novel by Chico Buarque, and directed by Walter Carvalho. Nexus produced also produced the picture (over 800,000 viewers) and the series "The Time and the Wind", which scored an average of 29 ratings between January 2, 3, and 4, 2014.
In 2016, Nexus produced the thriller "The Caretaker" distributed by Europa Filmes and MGM, released in June 2016 on the Brazilian theatrical circuit, and on December 2nd in the USA.
Now Nexus is post producing the picture "Duetto", shot and Brazil and Italy; and it is preparing the pictures "Madame Durocher" and "Por Um Fio", based on Dráuzio Varella's book.
RITA BUZZAR
Rita Buzzar has a unique portfolio: she studied script in Cuba with Gabriel Garcia Marquez. She also studied screenwriting at the Sundance Institute in Utah. She wrote great hits as the pictures "Olga" and "Budapest".
Between 1985 and 2002, she worked on television, being the author of the hits "Rosa dos Rumos" and The "Story of Ana Raio and Zé Trovão". He also directed and produced documentaries for TV Cultura, and wrote specials for TV Globo;
As a producer, she is responsible for the following projects:
 "Carandiru.doc" (2003), documentary;
"Olga" (2004), which reached over three million spectators and won the Havana festival in 2004;
"Budapest" (2008), four nominations for the Grand Prize of Brazilian Cinema;
"The Time and the Wind" (2013), an epic directed by Jayme Monjardim that became mini series on Globo network;
"The Caretaker" (2016), thriller movie distributed by MGM;
"Duetto" (2019), drama, shot in Brazil and Italy;
"Madame Durocher" (under development) partnered with Elo Company;
"Por Um Fio" (in preparation) based on Dráuzio Varella's book.
RITA BUZZAR'S BOOKS
ENTRE LEMBRANÇAS E ESPERANÇAS
Synopsis
This is a book about solitude. The characters resemble those immobilized by Edward Hopper in his paintings – introverted, with a lost stare at empty spaces. In six stories delicately sewed together, Rita Buzzar portraits the mishaps of human relations and our astonishment when facing them. The book reveals a writer at the top of her form, attentive to the meaning of words, which she uses with the purpose of penetrating the characters' souls and exploring the dark side of human existence.
Details
Publisher: Iluminuras
ISBN: 8573212136
Year: 2004
Edition: 1st
Pages: 159
Format: Paperback
Size: Medium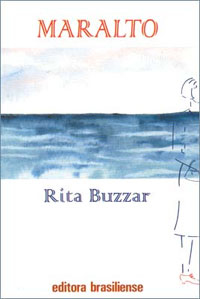 Synopsis
What happens when a singing teacher in a religious school decides, in a desperate act, to take the place of a famous 1920s cabaret singer? Magnolia already knew what "maralto" meant: those high seas far from the shore. A free, perfect sea where she would finally stop being just an undesirable singleton to maybe become beautiful and appreciated. Just like the flower…
Details
Publisher: Brasiliense
ISBN: 8511182233
Year: 1995
Edition: 1st
Pages: 184
Format: Paperback
Size: Medium