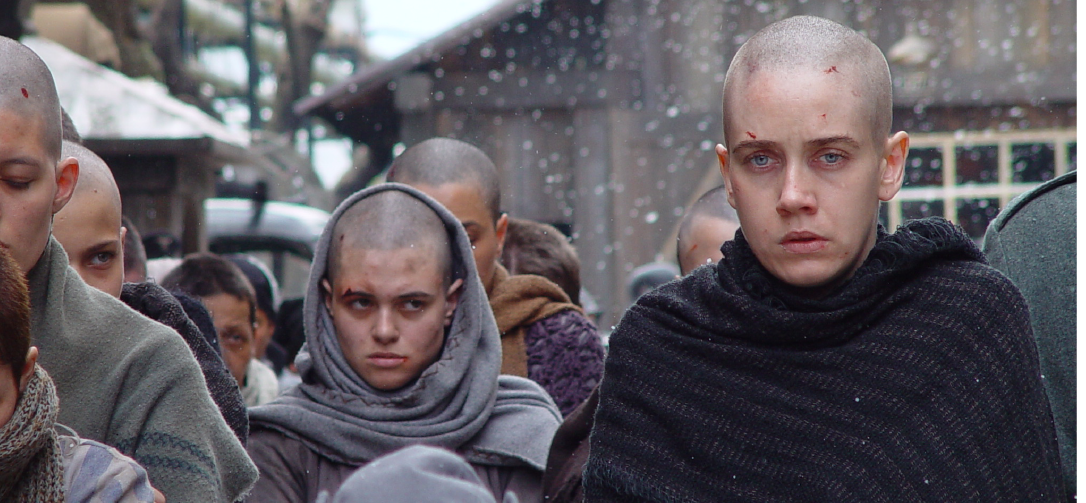 Synopsis
Berlin, February 1928, a young woman, Olga Benário, spectacularly invades the impenetrable prison of Moabit and frees the "red" professor Otto Braun, accused of betraying the country.
Olga, German, was the daughter of Leo Benario, a lawyer from Munich and an extremely influential man in the Social Democratic Party during the Weimar Republic and Eugénie Gutman Benario, socialite from a very wealthy Jewish family. At 15, she began militating in the Communist Youth Movement and was known for her fearless, physical courage.
Wanted by the German police, Olga has to escape to the Soviet Union. There, she receives military training, and is designeted for the most important Komintern mission in Latin America. She is to be responsible for the personal safety of the mythic Brazilian revolutionary Captain Luis Carlos Prestes who, together with his tiny army, traveled, on horse back, from one side of his country to the other combating poverty and oppression. Pursued, Prestes had to escape to the Soviet Union. Now he has to return to command the first communist uprising in the South American continent, the Brazilian Revolution of 1935.
On a risky trip through Europe and the United States and forced to pretend to be a rich Portuguese couple, Prestes and Olga fall in love. The experienced and disciplined 37 year old soldier reveals himself to be a very shy person and confesses that he had never before been with a woman.
In Brazil, Prestes and Olga meet other envoys from the Komintern and, clandestinely, organize the insurrection. In and between the secret meetings and the fear of being discovered by the police, Olga tries to understand this strange country, with its strong colors, sun, music and disconcerting gaiety. For a few moments, she even begins to believe that this could be paradise, the perfect country.
However, the movement is tragically defeated. All the revolutionaries are crushed by the dictator Getulio Vargas' police. Many are arrested and many others are killed.
Olga and Prestes manage to escape and live in hiding for several weeks, for they are searched for by all the political police of Rio de Janeiro. In the early morning of march 5, 1936, the police find the fugitives. The order is to kill Prestes, however, Olga's desperate gesture, running in between the elite riflemen and her lover's body, saves him from being murdered.
Both are imprisoned. Alone in her cell, unable to communicate with anybody and at the disposal of Vargas' violent police, Olga discovers that she is expecting Prestes' baby. Delighted, she still dreams of the possibility of freedom and union with him. However, after just a few days, Vargas strikes the final blow against the movement and its main leader by deporting Olga to Hitler's Germany.
At 15 Barnimstrasse, in Berlin, the fearful Gestapo women's prison, Olga gives birth to her only daughter, Anita Leocádia. Suddenly, she finds herself full of peculiar feelings that she had never before known she had. She becomes an loving and caring mother, that tries to amuse her daughter within the grimy walls of her cell. For the first time in her life, Olga is scared, for she knows that once she stops nursing her baby, she will be taken away from her.
At fourteen months, Anita is grabbed from her arms. However, an international campaign began by the tireless efforts of her mother-in-law, (Olga's own mother refuses to do anything about it) saves the child who is given to the family to care. Nevertheless, believing that her daughter had been placed in a nazi detention house and distraught with pain, Olga stops eating completely and loses all energy, even to get out of bed. She recalls the tenderness she had found in the warmth of her baby's tiny hands and wants to die.
Slowly, it is the hope of seeing Prestes and her daughter again some day that leads Olga to continue her fight. Transferred to the Ravensbruck concentration camp, she decides to organize and guide her fellow inmates. Together they try to survive the starvation, the madness and the violence.
At that exact moment, the great Stalinist terror is already fully underway. Almost all Olga's companions in Soviet Union, are arrested and killed. In 1939, after the non aggression pact between Hitler and Stalin, there are maneuvers to free Olga, but they are ignored by the Soviet government.
Olga is never to see Prestes nor her daughter again. She is one of the first victim's of the nazi final solution. She is killed in a Bernburg gas chamber in 1942. Luis Carlos Prestes is released in 1945, when the Vargas government is deposed. Anita Leocádia is alive and today lives in Rio de Janeiro.
Olga's story is the reflection of an era of obscurity and terror, it is Hitler's, Mussolini's and Stalin's era. It is the fascinating and disturbing portrayal of a woman that believed she could illuminate the world with her dreams, her courage and even with her death.
OLGA: A STORY OF LOVE AND INTOLERANCE
NEXUS CINEMA AND VIDEO and GLOBOFILMES are preparing "Olga", a feature film based on the homonymous book written by the Brazilian journalist Fernando Morais – a success in reviews and a best seller in Brazil, the United States, Germany, France, Sweden, England and other countries.
WHY OLGA?
Idealist? Spy trained by the Red Army? Adventurer? Soldier of the Revolution? Romantic? Who was Olga Benário Prestes, one of the first victims of the nazis' "final solution"? Olga's course has everything to do with this. The kind of bolshevic iron warrior that was transformed into a woman in Brazil. That perfect and daring agent that knew fear here. The militant that was always right that found out how bitter the so called "historical mistakes" could be. And what vision did Olga have of Brazil? What twisting path led foreigners, so elected by history, to loose their way here. Stefan Zweig, Hans Staden, and even Sarah Bernhardt…A kind of inside out paradise or the bottom of a well with crystalline waters? In the history of cinema, strong female characters became renowned classics by the media and critics, for being exceptions in an entertainment industry so focused on the male world. The drama of a strong woman, determined, idealist and beautiful, together with the historical polemical context, whose themes are till this day portraied all over the world: anti-semitism and nazism, will result in a greater public interest for this movie.
The story of Olga Benário synthetizes the conflict between nature and the implacable discipline imposed to the communist militants in the first half of the 20th century and the emergence of their individuality , of her fellings as a woman, of love and maternity. In Brazil OLGA is considered one of the greatest best-sellers of the editorial market. The book was translated into many languages, amongst them english, french and german.
"Olga" book reviews
"More than the warm portrayal of a woman, Olga reveals us the courage, sectarianism, solidarity and the optimism that led communist militants to sacrifice in the years that followed the Second World War." Le Monde , France. "A fascinating love story." Playboy. "Fernando Morais recreated the love, courage, integrity and devotion of a woman." Booklist, Chicago. " Mais que o caloroso retrato de uma mulher,Olga nos revela a coragem, o sectarismo, a solidariedade e o otimismo que levaram ao sacrifício militantes comunistas nos anos que preceram a Segunda Guerra Mundial." Le Monde, Paris " The story offered Fernando Morais settings and events that seem to have come straight out of a Hollywood movie…" Los Angeles Times. " Olga's life shines upon contemporary history's dark underworld and was narrated with the impact of a suspense novel." Standard, London " This documentary novel is the journalistic work of a master grabbing the reader from the first to the last word." Suddeutsche Zeitung , Germany
Editions of Olga around the world
Director:    Jayme Monjardim
Olga, baseado no livro homônimo de Fernando Morais, é seu primeiro longa-metragem. Nele Jayme coloca toda sua experiência de muitas novelas e minisséries, e seu estilo próprio de filmagem. O tema, um épico histórico, também é o seu favorito. O estudo de uma época, nos ajudando a compreender o passado e o presente é uma constante em sua obra.
Cinematographer:   Ricardo della Rosa
Nascido em São Paulo, Brasil em 1968. Estudou cinematografia na UCLA – Los Angeles (1990-1992). Como Diretor de Fotografia atuou em campanhas internacionais para Pepsi e Gatorade, nacionais para Coca-Cola, Nike, Itaú, Volkswagen, Honda, entre outros. Recebeu o prêmio de melhor fotografia nos Festivais de Gramado e Recife – 1997 pelo curta "Recife de Dentro pra fora" e duas vezes recebeu o premio da ABC – Associação Brasileira de Cinematografia pelos videoclipes – Aonde quer que eu vá – Paralamas do Sucesso (2002) e Bullet in the Blue Sky – Sepultura (2003), o qual tambem ganhou o premio de melhor fotografia no MTV – Video Music Brasil (2003).
Screenplay:   Rita Buzzar
Roteirista e produtora, estudou cinema na Escola de Comunicações e Artes de São Paulo. É autora de sucessos para a televisão como a mini-série Rosa dos Rumos (Rede Manchete, 1990-91), Ana Raio e Zé Trovão (novela, Rede Manchete, 1990-91) e escreveu a história de A Queridinha (Rede Manchete), de Walter Avancini. Também escreveu os roteiros de "Lara", "Zuzu" e "Maria dos Prazeres", uma produção internacional de Carlo Ponti. Trabalhou com Gabriel Garcia Marquez na série "Amores Posibles", para a televisão espanhola. E participou no Sundance Institute, em Utah, com o projeto selecionado "Luz no Céu". Dirigiu vários documentários para a televisão. Entre eles, "Carandiru.doc", sobre a Casa de Detenção e as filmagens de Hector Babenco. E está agora produzindo, em conjunto com a Globofilmes "Olga", do qual também é roteirista.
Produzido por: Rita Buzzar – Nexus Cinema e Vídeo
Co-producers:
 Associate co-producers :
Sponsors :
Cultural support :
Trailer
SCENES
GALLERY
CREDITS
MAIN CAST
Camila Morgado – Olga Benário
Caco Ciocler – Luís Carlos Prestes
Fernanda Montenegro – Dona Leocádia Prestes
Luis Mello – Leo Benário
Eliane Giardini – Eugénie Benário
Jandira Martini – Sarah
Mariana Lima – Ligia Prestes
Renata Jesion – Elise Ewert (Sabo)
Werner Schünemann – Arthur Ewert
Guilherme Weber – Otto Braun
Osmar Prado – Getúlio Vargas
Floriano Peixoto – Filinto Müller
Murilo Rosa – Estevan
José Dumont – Manuel
Milena Toscano – Hannah
Oscar Simch – Herr Fischer
Odilon Wagner – Capitão Navio
Eliana Guttman – Enfermeira Chefe
Paschoal Da Conceição – Dimitri Manuilski
Sabrina Greve – Elza Colônio
Ranieri Gonzales – Miranda
Raul Serrador – Rodolfo Ghioldi
Bruno Dayrrel – Victor Barron
Anderson Muller – Paul Gruber
Gilles Gzwidek – Leon Julles Valee
Maria Clara Fernandes – Carmem
Leona Cavali – Maria
Eduardo Semerjian – Galvão
Telmo Fernandes – Bangu
Helio Ribeiro – Padre Leopoldo
Edgard Amorim – Agildo Barata
Zé Carlos Machado – Ministro Da Guerra
MAIN CREW
DIRECTOR  Jayme Monjardim
PRODUCER  Rita Buzzar
SCREENPLAY  Rita Buzzar
DIREÇÃO DE FOTOGRAFIA  Ricardo della Rosa
EXECUTIVE PRODUCER Guilherme Bokel
PROCUCTION DIRECTOR Cláudia Braga
CASTING Mariana Lobo
CAMERA OPERATOR Flávio Zangrande
ART DIRECTOR Tiza de Oliveira
SCENOGRAPHER Gilson Santos
SCENOGRAPHER Erica Lovisi
COSTUME DESIGN Paulo Lois
MAKE-UP Marlene Moura
SOUND TCHNICIAN Jorge Saldanha
EDITOR Pedro Amorim
MUSIC Marcus Vianna